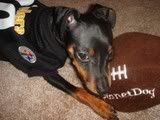 That would be the Pittsburgh Steelers. Oh well there is always next year.
Until then, we'll prepare for this Super Bowl watching the Puppy Bowl and filling up on snacks. The during the game we'll be anxiously awaiting for the commercials.
I guess if we had to pick it would be the GIANTS! Pats beat the Steelers so Pats are going down!!